Case Study: Real Estate Website Design
Client: The Move Smarter Team
Website Platform: Squarespace
The Move Smarter Team is realtor group led by Samantha Bauman. The team is comprised of real estate brokers working within the Berkshire Hathaway HomeServices Chicago brand. Samantha's team recently opened a new office in Geneva, IL. With the new branding and new location she found her website out of date and in need of a refresh.
We chose to build this website using Squarespace, a user-friendly builder that makes it easy to create and manage a website, even for those with little to no coding experience. Squarespace is also mobile-friendly, ensuring the website looks great on any device, from smartphones to tablets to desktops. Another benefit of using Squarespace is reliable hosting, ensuring that the website is always up and running smoothly. It also offers built-in security features, including SSL certificates and spam filters, to protect the website from potential threats.
Key features: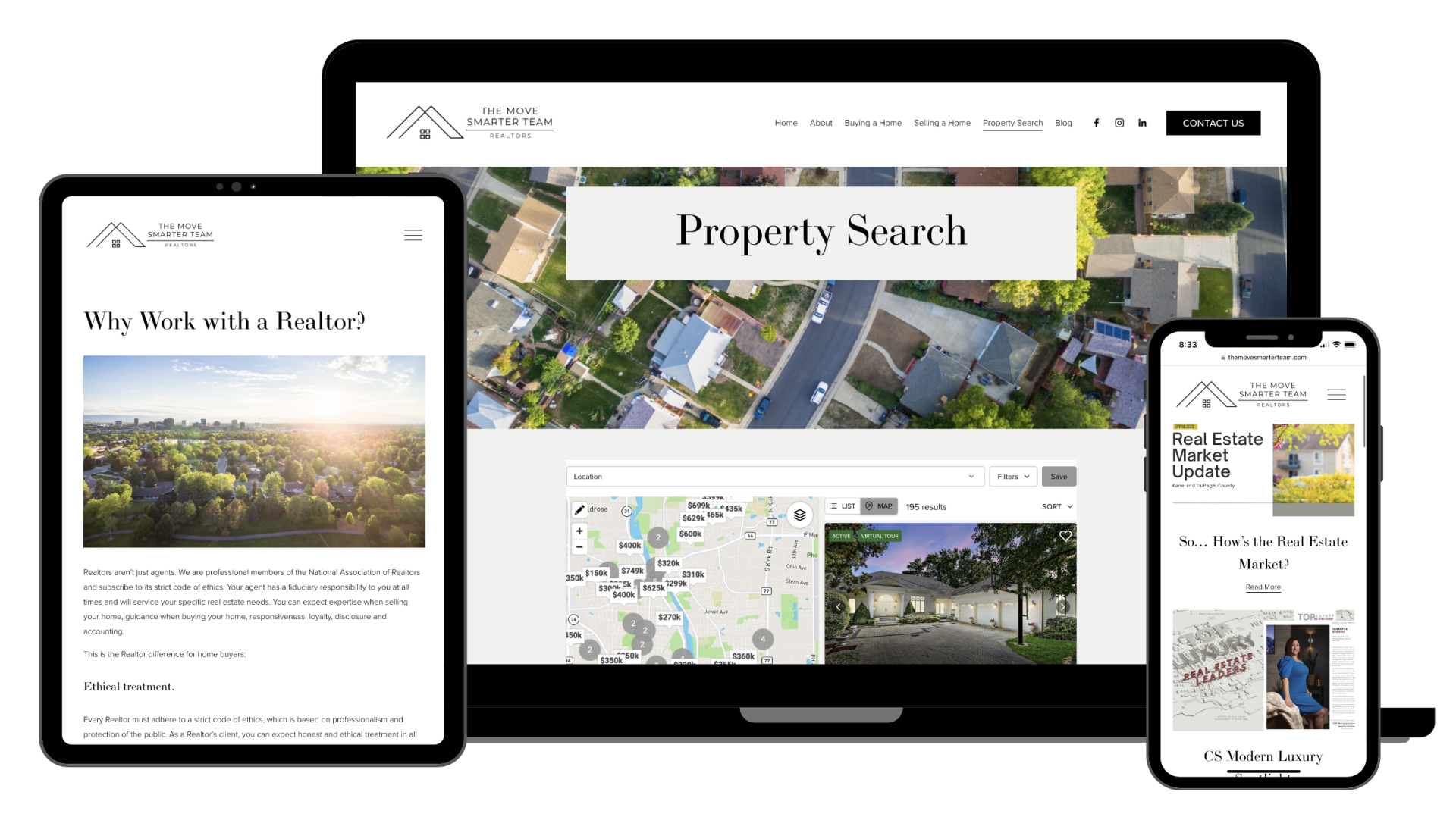 ---
Why is it important to have a well-designed website?
For a realtor, having a well-designed website is crucial for several reasons:
Establishing an Online Presence: With more and more people turning to the internet to search for properties, it's essential for a realtor to have a strong online presence. A well-designed website can help establish the realtor's brand and showcase their expertise, services, and properties.
Attracting and Engaging Potential Clients: A well-designed website can attract potential clients by providing them with the information they need to make informed decisions. A user-friendly website can also help engage potential clients by providing them with valuable resources and tools, such as property listings, virtual tours, and mortgage calculators.
Building Credibility and Trust: A professional-looking website can help build credibility and trust with potential clients. A well-designed website can showcase the realtor's experience, expertise, and testimonials from satisfied clients.
Providing Accessibility and Convenience: A well-designed website can make it easy for potential clients to access information about the realtor's services and properties at any time. With a mobile-friendly website, potential clients can easily search for properties and contact the realtor on the go.
---
Real results
Below is a snapshot of data that illustrates how effective using a blog post as social media can be at driving website traffic. This particular blog post highlighted a recent feature in CS Modern Luxury. The social media post generated 155 website visits. While a thoughtful social media strategy is key to any digital marketing plan, having a well-designed and up-to-date website is even more important. The website is where the conversion happens. This is where potential clients learn more about you, your business, and what sets you apart from others in the industry.
Overall, having a well-designed website is essential for a realtor to establish their online presence, attract and engage potential clients, build credibility and trust, and provide accessibility and convenience to their clients.