Chicago goes BIG for St. Patrick's Day. The Irish taverns fill to brim, cultural celebrations pop up in every corner of the city, and the Chicago River sparkles brilliant shades of emerald green.
The history of St. Patrick's day in Chicago goes back more than 175 years. Now a longstanding tradition, Chicago's Irish parade was first held in 1843 and became an official city event in the 1950s. The dyeing of the Chicago River was added in 1962, quickly becoming one of Chicago's most famous events.
My client, LondonHouse Chicago, is located on the corner of Wacker Drive and Michigan Avenue  — at the epicenter of the River dyeing event. They host a pretty epic viewing party every year at LH Rooftop, providing a bird's-eye view of all the action below. This Instagram post is a photo I took back in 2018 during the festivities!
View this post on Instagram
Afternoon Tea Service
The River dyeing is spectacular, but we're not here to talk about that event. We're here to talk about the special St. Patrick's Day-themed Afternoon Tea service! The Afternoon Tea at LondonHouse is served in Bridges Lobby Bar, located on the second floor of the hotel. This elevated vantage point lifts you just high enough off of ground level to provide awesome views of Wacker Drive and the skyscrapers that line the Chicago River.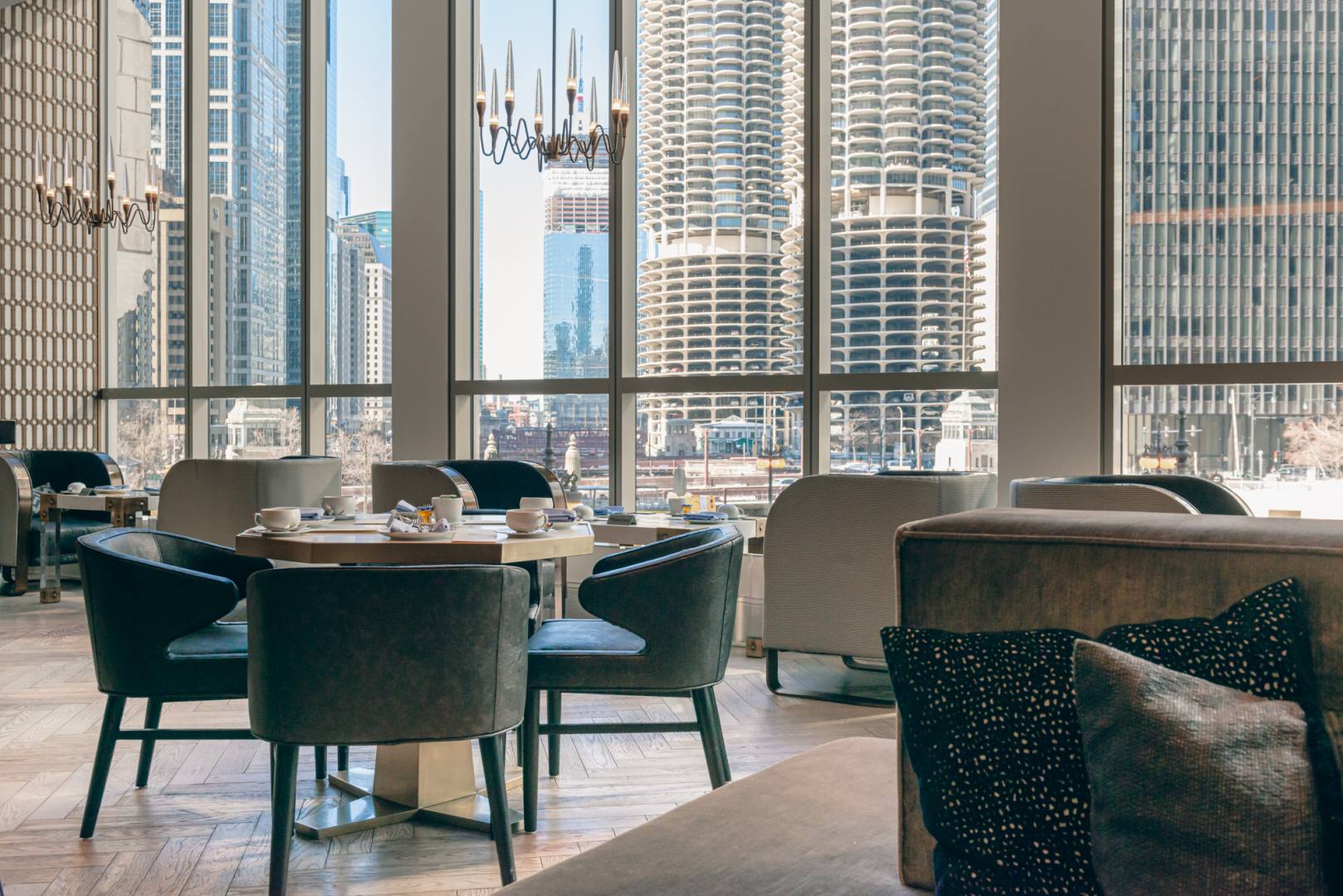 The tea service is offered daily from noon-3pm. It begins with a selection of Rare Tea Cellars and Sparrow Coffee teas and a basket of fresh scones and breads with accoutrements. The 3-tiered tower follows with savory and sweet bites crafted by their culinary and pastry teams.
The tea menu is a set menu designed by Executive Chef Elizabeth Sweeney and Executive Pastry Chef Thomas Gorczyca. The menu changes seasonally and is always as much a treat for the eyes as it is for the stomach! Some of the featured items for this special holiday-themed tower include: Tricolor Macaron – Bailey's Irish cream buttercream; Grasshopper Tart – Black cocoa sable, chocolate cremeux, mint cream; Ruben Spring Roll – corned beef, cabbage, Swiss cheese; and New England "Crab" Sandwich – vegan jackfruit salad, micro greens. Click here to view the full menu. If you're interested in booking this tea service, click here to make a reservation.
The Photos
Below is a gallery of images I captured, with the help of Nick Ulivieri, to promote their St. Patrick's Day-themed tea service on social media. Follow along on their Instagram, Facebook, and Twitter accounts to see other content I capture for them!
---
Behind the Scenes
While we were on-site shooting tea, we also captured images of their amazing Brunch offerings (blog post to come). Here is a #BTS shot Nick captured of me shooting the food. All of this has me looking for Spring, and excited for the city to open up to more visitors! Looking forward to many more fun projects this year.